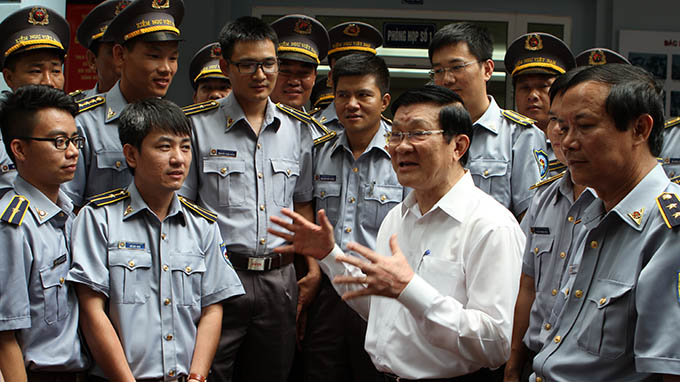 President rangers chat with Vietnam Fishery Control Force - Photo: V.V.Thành
The head of state does not hide emotions when listening to the marine police and soldiers expressed their determination not manage hardships, difficulties and sacrifices to complete outstanding tasks because "behind the more than 90 million heart compatriots at home and abroad are day and night beats watching. "
Brutal actions
President stated to the Chinese put down 981 illegal drilling in the continental shelf and exclusive economic zone of Vietnam, the task of the police and marine Fishery control during the last two months is both unexpected but will also have long-term task because the situation may be more complicated, more difficult to appear new.

According to Brigadier General Nguyen Quang Dam (Coast Guard commander in Vietnam), to carry out the order and drill down as planned, despite China and challenge public opinion, using every trick to protect rig pulling horns, projector headlights, strung wire, water spray, push board, collision damage ... Coast Guard vessels, fishery boat and fishing boats of fishermen to Vietnam, particularly DNA was stabbed sinking fishing vessel 90 152 and manages to make time for our ship to crash into Chinese vessels false information.

Representative rangers said fishermen fishing vessel sank after crashing DNA is 90 152 Chinese ships products can not act to save our fishermen, for example, do not throw it into the sea buoy, but also hinder rangers Vietnamese fishermen South to help the people.

Shortly thereafter, the President today asked the authorities have kept full of images of fishermen sinking crash this brutality.

When you hear reports that we are fully present photographic evidence of the Chinese ships chased DNA 90 152 fishing vessels, then crashed and sank straight, the President said: "I am calling to ask, see very urgent brother, now claim to have enough evidence to events rather then. In the coming days I will be in Da Nang direct review. "

According to the President, any country that used law enforcement vehicles crashed fishermen fishing vessel sink is not acceptable, the civilized world has no place for such actions.

"Hoang Sa and Truong Sa is a traditional fishing grounds that his father left behind by thousands of generations. We say this is clear evidence, who do not see themselves in Danang museum exhibits artifacts related full, or on Ly Son heard the old 70-80 years old narrator fishing in this traditional fishing grounds "- the President said.

Affirming justice belongs to Vietnam, the President said although the Chinese side made ​​other arguments but in the end justice will come and justice does not belong to the ship, a large gunboat.

President stressed: "People do not have feet that iron in hand ship was attacked by a large capacity, so cruel, reliance can not ship to, bully big guns. Definitely not bow peoples accept. We want to draw curious, want to live in peace but on the basis of equality, mutual respect and mutual benefit ".
Restraint rather than effeminate
During the work, the President has spent more time listening to the Fishery control who has since returned to sea Paracel report.

Mr. Le Tuan Anh (secretary platoon Fishery control 3) said the Chinese ship collision from the spot light on my ship, there have been stabbed to act with great speed. Formerly the spleen and stabbing, this is an anti-ship, a ship crashed, very dangerous act.

State President Truong Tan Sang said that the last two months in the field, now we can confirm a small ship and a small but brave and will not lose anyone.

According to the President, Vietnam was restrained to maintain peace, stability, freedom of navigation safety in the South China Sea, which is also the demand of the international community, including China.

South China Sea located along the international maritime important, if something happens here, the relevant countries can not develop, not only Vietnam but China can not develop.

"Vietnam does not want that to happen. We must refrain spineless, weak coward, which represents hospitality stance, expressing meaning with the goal of protecting independence, sovereignty, territorial integrity, "- said the President.

At the meeting with the police and marine Fishery control, State President Truong Tan Sang also said the next time the State will continue to invest in ships, better equipment for these two forces to preserve enough 'm all right, keeping security and safety on the island nation's waters.
V.V.THÀNH - Đ.BÌNH
(Source: Tuổi Trẻ)